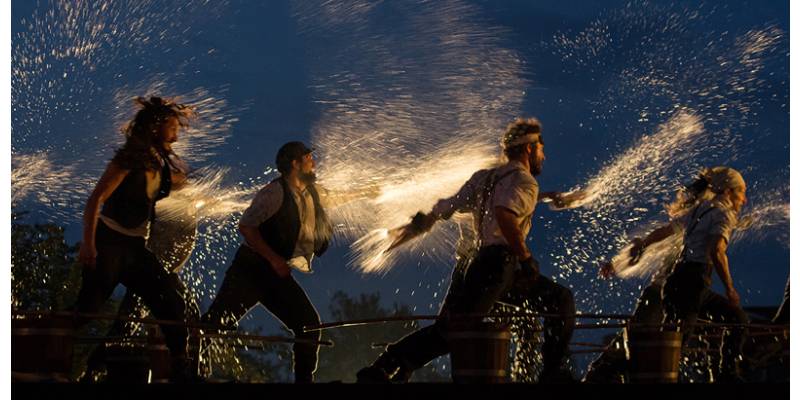 Overview
PRESS  RELEASE
20 actors on stage for a great theatrical project designed for large urban spaces. 20 artists in the street to relate to the suburbs neighborhood community. 
This is the Compagnia del Teatro dei Venti's  "Moby Dick" that will be staged in Lecce (Armando Morrone Square) on Saturday 29th june 2019 (start  9,30 pm) thanks to the Municipal Administration of Lecce and the Interreg IPA CBC Italy – Albania – Montenegro project called "Complicities" (acronym of "Contemporary art Modeling Peripheries for Flexible CITIES").
"Complicities" project applies different artistic languages as main instruments of regeneration processes in urban suburbs in order to make them habitable and attractive places.
The theatrical show is only the first of a series of innovative and participatory artistic interventions aimed to improve sense of belonging, responsibility and care of the places on the outskirts in three Countries (Italy, Montenegro and Albania).
The international project partnership - Municipality of Lecce, Cultural Center JP "Kulturni Centar" (Bar -Montenegro), Non Profit Organization "CO.DE. Consulting and Development Partners " (Scutari -Albania) and, as an associated partner, University of Salento - Dipartimento di Storia, Società e Studi sull`uomo (Lecce – Italy) - offers the opportunity to experiment with innovative, interesting international solutions in the field of revitalization and development of the suburbs. In fact a part of the project, WP "Creative Regeneration Interventions" (T2), is specifically dedicated to this purpose. In this context, the Artistic Direction of the Complicities project proposed, the "Moby Dick" of the Compagnia Teatro dei Venti that will take the Captain Ahab's ship in Armando Morrone Square with a large theatrical machine and a crew of 20 artists, including actors, musicians, acrobats and technicians.
The seafaring and epic setting of Melville's novel meets the archaic sound of the barrels of the italian tradition, in a work consisting of the philosophical reflection on the unknown, the contamination between languages ​​from west to east and the use of large theatrical machines.
Project and Direction: Stefano Tè; 
dramaturgical adaptation: Giulio Sonno; 
Director Team:  Mario Barzaghi; Simone Bevilacqua; 
live music: Luca Cacciatore, Igino L. Caselgrandi e Domenico Pizzulo;
costumes:  Luca Degl'Antoni e Beatrice Pizzardo (Teatro dei Venti);
light design: Alessandro Pasqualini; sound: Nicola Berselli;
scenes and stage machines: Dino Serra e Massimo Zanelli;

ITALIAN PRESS LINKS: 
http://www.klpteatro.it/moby-dick-teatro-dei-venti-recensione
https://www.teatroecritica.net/2019/05/il-colpo-di-coda-del-teatro-lutopia-realizzata-di-moby-dick/
https://paneacquaculture.net/2019/05/11/il-moby-dick-del-teatro-dei-venti-il-grande-sogno-dellartigianato-teatrale-indipendente/
https://www.rumorscena.com/09/05/2019/trasparenze-festival-la-volonta-di-muovere-utopie-e-far-navigare-moby-dick
https://www.stratagemmi.it/moby-dick-trasparenze-festival/